Peach Beach Splash Intro Animation
Peach Beach Splash is a third-person shooter in which players control shinobi from various games in the Senran Kagura series, using different types of water guns with different abilities. I wanted to share the Intro Animation for Peach Beach Splash, hope you enjoy.
Brand New Shenmue 3 Screenshots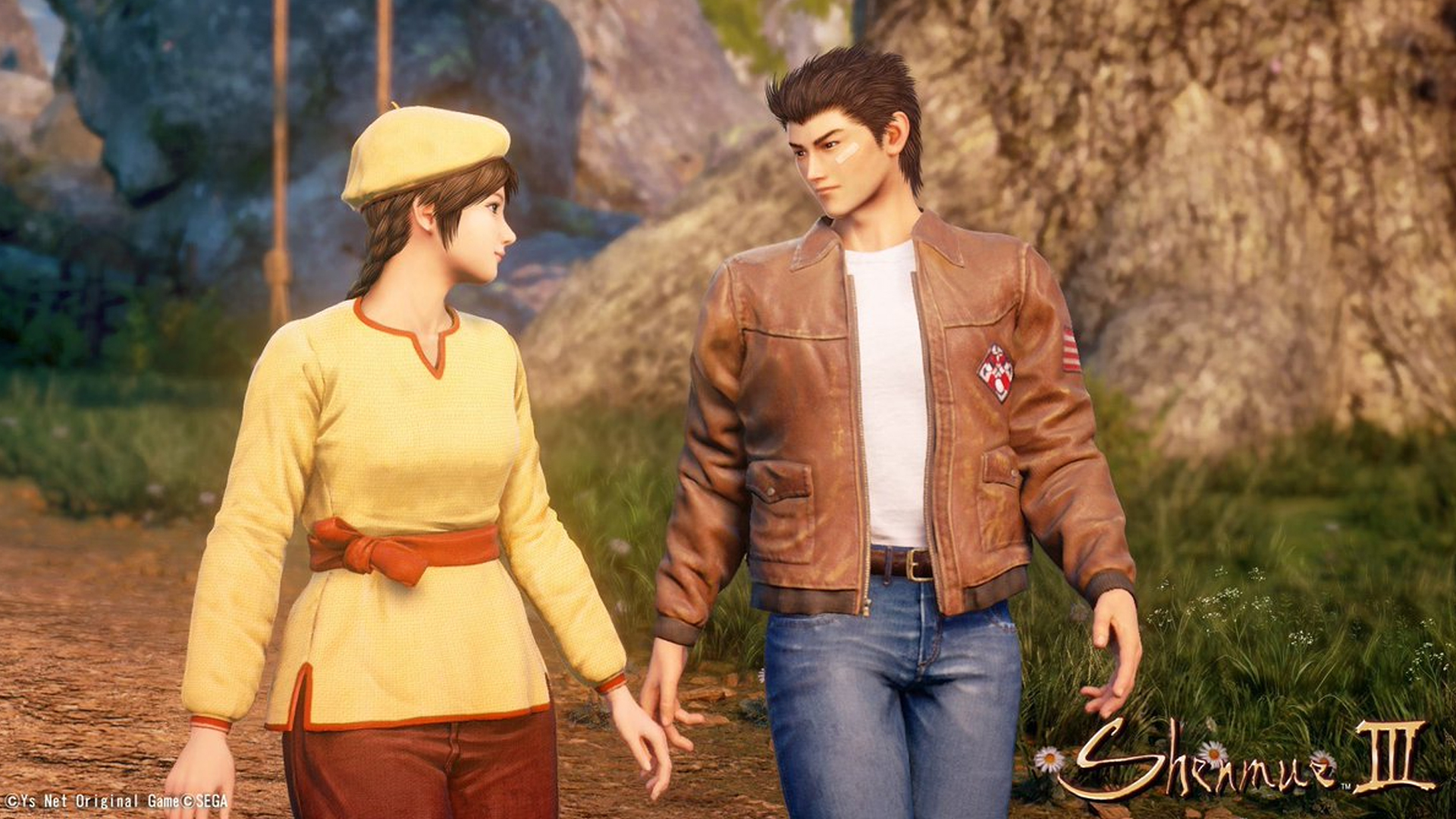 Brand New Shenmue 3 Screenshots
For those who follow the channel or know me personally will know that I am a massive Shenmue fan since the great days of the mighty Sega Dreamcast. As much as Shenmue 3 did excite me when it was first announced, I have always been cautious for a sequel in the series simply because I have never wanted the great Shenmue legacy to be tarnished by a game that might be considered lacklustre or just doesn't meet the expectations of the fans.
Now the issue is that it has been nearly 17 years since we had Shenmue 2 and with time passing and the current generation of games hitting a new standards when you consider the likes of the Uncharted Series, GTA V which is a series that has push boundaries to new heights and even Yakuza series which you could more compare to Shenmue style of game, plus loads more games of games means that it will be a massive challenge for Shenmue 3 to recapture that feeling that was created with the first 2 Shenmue back in the early 2000s now in the year 2018. 
After watching the first gameplay trailer I was pretty worried for the fate of Shenmue 3 simply because the trailer didn't do a good representation of the game with the stiff looking character models and the mediocre visuals but now we have recovered some refined screenshots which I must admit looks amazing. 
I don't want to get my hopes up and get gassed to start saying this will be game of the year in 2018 if the game does even come out this year but I do feel somewhat more positive after looking at the more recent visuals as opposed to the previous trailer. Deep down I am probably still caught up with nostalgia when it comes to Shenmue but this is among my favourite series in gaming of all time and therefore was to see the series come to a conclusion that will make all the fans proud and atlas think that the 18 years wait was well worth it. 
Anyway peeps what do you make of the latest screenshots. I know it's not in motion so maybe another trailer can get us panicking again but do you at least feel a little at ease with what you see. 
Yakuza Kiwami Review
Does Yakuza Kiwami do the great franchise justice?
Yakuza Kiwami Review
Released back in January of 2016, Yakuza Kiwami is the complete remake of the first Yakuza series of games that are developed by the people over at Sega. The game takes place in Japan and focuses on Kazuma Kiryu, an individual that's a member of the Yakuza, hence the name of the game. Currently, there's a war going on between the 2 biggest clans in his hometown and it's slowly getting more and more dangerous with every day that goes by. For the sake of his clan and to avoid unnecessary bloodshed, he goes out to mend the fighting between the 2 clans; whether they wish for him to or not.
Gameplay for Yakuza Kiwami is similar to all of the other Yakuza games in the franchise and plays out like an action-adventure, with a focus on beat-em up combat. With plenty of different fighting styles for the player to choose from, there's a lot of ways to approach each opponent that doesn't necessarily require you to put them through a shop window for a change.
In terms of positives, Yakuza Kiwami is a really well designed entry point into a series that's been out for quite some time now and the visuals alone is a great demonstration with how well they've done in this game. By using the power of the PS4, this title gets even more recognition because of it.
Easily the biggest negative for the game is going to have to be the audio, at least the English audio specifically. The Japanese voice acting for this game is incredibly well done and just goes to show how much effort Sega put into this game, but the English voice recordings aren't anywhere nearly as well done and should be avoided as best as possible; simply because they just pale in comparison.
As far as this remake has gone, Sega have done a great job with this Yakuza entry and makes it for an easy game to warrant a recommendation for!
October 2017 Free PlayStation Plus Games
Metal Gear Solid V The Phantom Pain makes entry to October 2017 Free PlayStation Plus Games Lineup
October 2017 Free PlayStation Plus Games
For all the PlayStation fans out there we have finally got the full reveal of October 2017 Free PlayStation Plus Games and they pretty much seem to be all the games that was revealed in the mix up for the September free games that was then corrected but I will go over them all again as lats month I was under the impression that North America was getting most of these titles.
Amnesia Collection – PS4 October 2017 Free PlayStation Plus Games
First up is the Amnesia Collection and will be available to the PS4 owners with that PS Plus membership. The collection contains three Amnesia titles: The Dark Descent, A Machine For Pigs, and Justine. It goes without saying that this is a horror game which proves a real authentic horror experience creating tense and nail biting moments throughout your journey. Now the people who follow the channel will know that I don't really indulge to deeply with horror games but this game does appear to be really interesting and whilst I won't be playing the game as soon as its available to download I will still add this to the library.
HUE – PS4 October 2017 Free PlayStation Plus Games
HUE is next up on the ps plus list for October and this will be available on both the PS4 and PS VITA.
HUE is a puzzle-platformer through which you alter the world by changing its background color. You explore a dangerous grey land, unearthing colored fragments on a journey to find your missing mother. As obstacles match the background, they disappear, creating new puzzles full of peril, mystery, and colors unseen. As I said last month this game seems to be very interesting and a game that I would actually like to try out as I love the visual art style and just the general concept behind the game.
Metal Gear Solid V: The Phantom Pain PS4 October 2017 Free PlayStation Plus Games
Probably one of the biggest games I seen hit the ps plus list in quite some time is Metal Gear Solid V: The Phantom Pain. Now this is a title that those who never got a chance to pick up or own the game physically will be a must to add to your collection digitally. To my knowledge this was the first time that we experienced true open world gameplay within the METAL GEAR franchise and it was such a phenomenal experience. I won the game physically and it would be unthinkable of me not grabbing the digital version of this game. hats off to Sony for adding this game to the line up.
Sky Force Anniversary – PS4 October 2017 Free PlayStation Plus Games
Next up and available on The PS$, PS3 and PS Vita is Sky Force Anniversary. Harnessing the intensity of classic arcade games combined with modern visuals, Sky Force Anniversary offers a stunning scrolling shooter experience with an incredible new social gameplay element. Now this game has actually received pretty good review scores across the board and seems like a pretty fun game so whilst I probably wouldn't purchase this game if given the option I will gladly test out for free.
Hustle King PS3 October 2017 Free PlayStation Plus Games
PS3 owners will be able to download Hustle king which is a pool game that features a career mode as well as various trick shot and tournament modes. Now whilst I do love zoning out to playing pool in real life or even in a video game. I doubt I will be turning on my ps3 to play this game but don't get it twisted Pool games are really great fun pick up and play games to waste a few hours in
Monster Jam Battlegrounds – October 2017 Free PlayStation Plus Games
Last but not least is Monster Jam Battlegrounds for the PS3 owners. Monster Jam Battlegrounds brings the ever popular touring show straight to the fans with roaring engines and crushing action. Not only does this game replicate the world renowned Monster Jam stadium and arena events, but it also takes fans out of the stadium and into other environments for physics based skill and stunt challenges. Now keeping it real this game just doesn't seem appealing at all to me and very doubtful I would waste my ps3 storage on this game but for those who might be into this type of game don't let me deter you from downloading the title.
all in all whilst its feel rather a familiar list as I did do a run down last month on most of these games I will say that Metal Gear Solid being included actually makes it quite a solid list
Now I know some gamers might argue that most PlayStation 4 owners probably own the game already but I would say that whilst that is a high possibility given how the hype of games die down pretty quickly if you didn't purchase the game in the first couple of months sometimes they fall under the radar and you end up not getting around to picking certain games up for a lengthy period of time, It happens to me a lot especially when I initially have the intention of getting the game other games end up coming out and distracting me so I say that those who never got around to getting this game this will possibly be one of the hottest free games you will get in 2017 as far as PS plus games are concerned
October 2017 Free PlayStation Plus Games
PS4
• Amnesia Collection
• Hue
• Metal Gear Solid V: The Phantom Pain
• Sky Force Anniversary
PS3
• Hustle Kings
• Monster Jam Battlegrounds
• Sky Force Anniversary
Vita
• Hue
• Sky Force Anniversary