If you been complaining that Gamescom Tomb Raider demo was just kill kill kill then Watch Rise of the Tomb Raider's No-Kill Stealth Options.
As seen in Gamescom, Microsoft has released a gameplay video demo of the "Rise of the Tomb Raider." While the preceding video showed how Lara Croft mercilessly kills her enemies to attain her objective, the latest demo displays some of her non-lethal skills. As a matter of fact, the whole video does not show Lara killing anyone but instead give players a diversity of options to play, whichever they like.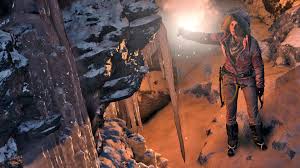 Since many players were wondering if non-lethal methods could be possible, the video should please many fans of the series. The demo evidently shows the methods used by Lara Croft are possible, as she distract foes by shooting far objects to avoid their sights by climbing structures. As a direct development to the vitally acclaimed "Tomb Raider" reboot by Crystal Dynamics and Square Enix, the game was expected to carry on the action-oriented approach of the first game. Since it was being reported that stealth is one of the options, the sequel seems like it will have more combat variety and approach of the game's missions.
Since Lara will have to get her hands dirty in the sequel, combat is not always preventable. Given that players have more options, it is a significant change for the series. Despite the variety of new options, the game is still considered a return of the series, since Lara will finally attack tombs again in the sequel. The game is exclusive for Xbox One and the Xbox 360 for the meantime. It is set to launch on Nov. 10 for all Microsoft's consoles. For the computer versions, it will arrive in early 2016.
Below Watch Rise of the Tomb Raider's No-Kill Stealth Options and also my opinion about Kill VS Stealth